Website redesigning can be an effective way to grow your business by improving user experience, SEO, content, brand identity, and functionality.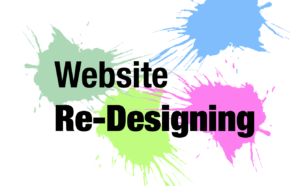 Website redesigning can help grow a business in several ways, including:
Improved user experience: A website redesign can improve the user experience by making the website more visually appealing, easy to navigate, and accessible. This can help increase user engagement, reduce bounce rates, and improve conversion rates. A well-designed website can provide a positive user experience and make it easier for customers to navigate and find what they are looking for. This can lead to increased engagement, longer site visits, and higher conversion rates.
Increased credibility &  Competitive Advantage: A professionally designed website can help establish credibility and build trust with potential customers. It can also help differentiate your business from competitors and position you as a leader in your industry. A website redesign can help you stand out from the competition by offering a unique and memorable user experience. This can help attract new customers, retain existing ones, and increase brand loyalty.
Updated content: A website redesign can provide an opportunity to update and refresh the website's content. This can help keep the website relevant and up-to-date, and provide valuable information to users.
Stronger brand identity: A website redesign can also help strengthen your brand identity by updating the website's design, color scheme, and branding elements. Website redesigning can help update your brand identity and create a consistent visual language across all marketing materials. This can help improve brand recognition, build trust with users, and create a more professional image.
Increased functionality: A website redesign can also provide an opportunity to add new functionality to the website, such as a shopping cart, online booking system, or contact forms. This can help streamline business operations, improve customer service, and increase revenue.
Better search engine visibility: A website redesign can also improve SEO by optimizing the website for search engines. A website redesign can improve search engine optimization (SEO) and increase visibility in search engine results pages (SERPs). This can include updating content, using the right keywords, improving website speed, and ensuring the website is mobile-friendly. This can help drive more traffic to your website and generate more leads and sales.
Mobile responsiveness: A redesign can make your website mobile-friendly and accessible on all devices. This is important as more and more customers are accessing websites on their smartphones and tablets.
Improved website performance: Website redesigning can improve website speed, security, and overall performance. This can help reduce bounce rates and ensure that customers have a positive experience on your website.
Overall, website redesigning can help grow your business by improving user experience, increasing credibility, enhancing branding, improving search engine visibility, making your website mobile-friendly, and improving website performance. By investing in a website redesign, businesses can stay relevant and competitive in today's digital landscape.