Search Engine Optimization or in simple SEO is the strategy of marketing & promoting your website around the web. Professional SEO makes your website popular on the internet. The techniques of SEO will function as the nerve system in the human body.
What are the Search Engines?
Using own web crawlers commonly called as search engine bots or spiders, crawling thousands of billions of pages, the search engine works it's function.
User visits some websites, where he/she feels, the requested information or product or service may available. For instance if you are expecting some information of a mobile or a laptop before purchasing, you may  search the relevant information in searching websites like Google, Yahoo, Microsoft Bing, DuckDuckGo, etc
Similarly, when you decide to purchase a mobile or a laptop, you may go to Amazon or any other product listed e-commerce websites.
These websites make your search very simple and with the help of few keywords you can find your requested information or product details.
Why SEO is essential to your website?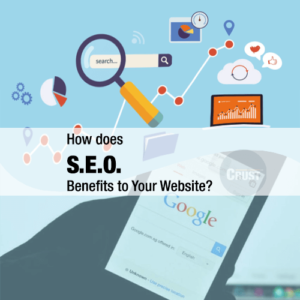 Simply designing your website and making it online doesn't make any sense, unless it is enabled for searchable on the internet. A professionally designed or developed website suggested also should be optimized for search engines; leads to create greater impression on the internet. The process of Search Engine Optimization is not as easy process as website designing. You require to optimize each & every page of your website is to perfectly adjust with all the major search engines on the web. Only after optimization, your website starts to get good impression and higher traffic as well as the increased conversion rates.
Few of SEO Strategies
At CRUST, SEO professionals will take more keen on SEO strategies for each of the websites of our clients. Few of the SEO strategies are as follows
Rich Title for Page / Post
You need to focus on writing the rich title for your web page or post you publish on your website. You should write the title attractively with easily searchable keywords. It is to be short and precised, generally within 60 characters including spaces and special characters.
Body of the Content for SEO
Concentrating on body of the content is very important to gain the benefit of SEO. It is recommended to write at least 300 to 500 words in the content. The very first para of the content is attracting higher rate in Search Engine Optimization. It should be very simple and contain with relevant keywords.
You also take very care on using the H1, H2, H3 tags in the content in association with requisite information. Easy navigation using internal and external links is a plus advantage. Also the keywords in key phrases used in heading tags should not be repeated too much  times; which may lead penalize your web pages by search engines for misleading the wrong information.
Media Attachment [Image / Video]
I recommend you to attach a perfectly relevant image or video to your article with correctly defined alt texts. To reduce the web page's load time, I suggest to compress the image or video to the maximum possible small size but without compromising with the quality of the image.
Keyword Tags for SEO
I recommend you to use 3 to 5 searchable keywords, but make sure you have properly used them in the content. These keywords provides faster navigation to your content.
Meta Description
Meta description of the page/post should be very brief and it should not more than 160 characters including the spaces and special characters. These meta descriptions are the snippets visible on the search engines.
If you wish to consult me for the SEO Services, please Book an Appointment
–