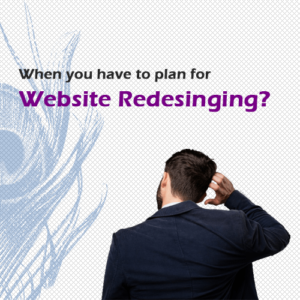 Website redesigning can be a significant undertaking, so it's important to plan it carefully. Here are some things to consider when planning a website redesign:
Goals: Define the goals you want to achieve with the redesign. Do you want to increase traffic, improve user experience, or update the design?
Audience: Understand your audience and their needs. What do they expect from your website, and how can you make it more user-friendly for them?
Content: Assess your existing content and identify what needs to be updated or removed. Consider adding new content to improve the user experience.
Design: Determine the design direction for your website. Do you want to update the visual appearance, or do you want to completely overhaul the design?
Budget: Consider how much you're willing to spend on the redesign. This will help you prioritize which features are most important and identify any limitations.
Timeline: Set realistic deadlines for the redesign process. Make sure you have enough time to complete each phase of the project.
Team: Determine who will be involved in the redesign process. Will you be working with an external agency or an internal team?
Testing: Plan to test the new website thoroughly before launch to ensure it works properly and is user-friendly.
SEO: Make sure you have an SEO strategy in place before the redesign process begins. Consider how changes to the website may impact search rankings and plan accordingly.
Analytics: Collect data about your website's performance before the redesign so you can measure the impact of the changes. Use analytics tools to track traffic, user behavior, and other important metrics.
Mobile Optimization: Ensure that your redesigned website is optimized for mobile devices, as more and more people are accessing the internet on their smartphones and tablets.
Security: Consider the security implications of the redesign. Make sure your website is protected from hacks and other threats.
Accessibility: Ensure that your website is accessible to people with disabilities. Consider adding features such as screen reader compatibility and keyboard navigation.
Maintenance: Plan for ongoing maintenance after the redesign is complete. Consider who will be responsible for maintaining the website and how often it will need to be updated.
Communication: Keep your stakeholders informed throughout the redesign process. Communicate any changes or updates to ensure everyone is on the same page.
Outdated technology: If your website is built on outdated technology, it may be difficult to maintain or update. A redesign can help you switch to newer technology and improve performance.
Branding: If your brand has evolved since the website was last redesigned, you may need to update the website's look and feel to better reflect your brand.
Usability issues: If users are having trouble navigating your website or finding what they need, it may be time for a redesign to improve the user experience.
Competitive advantage: If your competitors have more modern and user-friendly websites, a redesign can help you stay competitive and attract more visitors.
Conversion optimization: If you're not seeing the desired conversion rates on your website, a redesign can help you improve the user journey and increase conversions.
By considering these factors, you can plan a successful website redesign that meets your goals and satisfies your audience's needs.